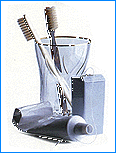 If you would like to reduce your risk of developing gum disease, the most important thing to do is to develop good oral-hygiene habits. Also, make sure to schedule regular checkups so that your dentist can check for early signs of gum disease. We can work closely with your regular dentist to ensure proper treatment or you can contact us directly without the need for a dental referral.

Here are a few tips to help you prevent gum disease:
Brush your teeth at least twice a day with a flouride toothpaste. Always use a soft bristled tooth brush with ends rounded or polished. Place the bristles (where tooth and gum meet) at a 45 degree angle, then move the brush. DON'T FORGET TO BRUSH YOUR TONGUE!!
To remove plaque from above or below the gumline and from between teeth, floss daily. If you have bridges or dentures, make sure you clean around them and supporting teeth.
Eat Right! The proper nutrients can help you maintain healthy gums and bones and fight infections.
Avoid starchy or sugary foods which increase plaque buildup.
Avoid cigarettes and other forms of tobaacco.
Avoid grinding or clenching your teeth.
About Us | Gum Disease | Treatment | Prevention | Visit Us
---
Jeffrey M. Weil, D.M.D.
240 Park Avenue, W. Newell Entrance
Rutherford, New Jersey 07070
Tel: (201) 460-1333 | Fax: (201) 460-0117
---